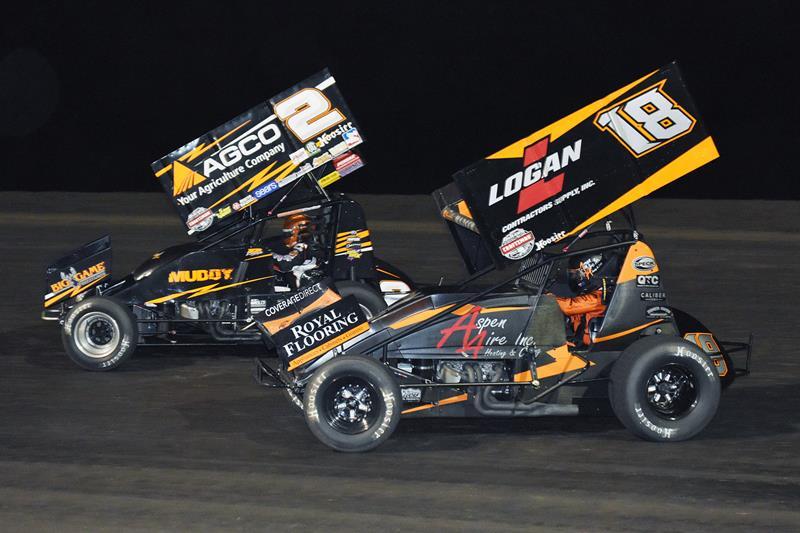 3/20/2017
Inside Line Promotions
---
Jackson Motorplex's Loyalty Travel Bonus Program Welcomes 19 Drivers
(Photo by Jeff Bylsma)
Inside Line Promotions – JACKSON, Minn. (March 20, 2017) – A total of 19 drivers with roots across the Midwest have signed up for the loyalty travel bonus program that Jackson Motorplex is offering this season in the 410 Outlaw Sprints Fueled by Casey's General Store division.
Defending track champion Ian Madsen is one of five drivers who finished in the top 10 of the championship standings last season who will be rewarded with the perks of traveling to the half-mile oval.
Tim Kaeding, Brooke Tatnell, Tasker Phillips and Kaley Gharst also placed in the top 10 of the standings and have signed up for the loyalty travel bonus program.
Additionally, Bill Balog, Mark Dobmeier, Dakota Hendrickson, Kevin Ingle, Lynton Jeffrey, Austin Johnson, Matt Juhl, Chris Martin, Austin McCarl, A.J. Moeller, Dylan Peterson, Skylar Prochaska, Matt Wasmund and Travis Whitney signed up for the program.
"There is a great group of racers representing Minnesota, Iowa, Wisconsin, South Dakota and North Dakota who are part of the loyalty travel bonus program," Jackson Motorplex General Manager Doug Johnson said. "We are thrilled to have them committed to race at Jackson Motorplex this season and taking advantage of the program the track is offering. I think this will be a win for the fans, teams and Jackson Motorplex."
The program will calculate the miles a team travels from its shop to compete as well as the number of races out of nine potential 410 Outlaw Sprints Fueled by Casey's General Store events a team has raced in to provide a loyalty travel bonus.
Teams that travel 500 miles or more will receive $350 per race, 400 to 499 miles ($250 per race), 300 to 399 miles ($200 per race), 200 to 299 miles ($125 per race), 100 to 199 miles ($50 per race) and up to 99 miles ($25 per race). For example, if a team traveled at least 500 miles to all nine 410 events it would garner $3,150 from the loyalty travel program. If a team misses one race it will receive 80 percent of eligible bonus money while two missed races doles out 50 percent of the bonus money. All bonus money will be paid at the 2017 Jackson Motorplex banquet.
Additional news about the 410 Outlaw Sprints Fueled by Casey's General Store points fund, race procedure and points structure will be released in the near future.
MEDIA LINKS –
Website: http://www.JacksonMotorplex.com
Twitter: http://www.Twitter.com/JacksonMotorplx
Facebook: https://www.facebook.com/JacksonSpeedway/?fref=ts
JACKSON MOTORPLEX –
Jackson Motorplex is a recently renovated half-mile dirt oval located in Jackson, Minn. It hosts weekly races on most Fridays from late April through September with 410ci winged sprint cars, RaceSaver 305ci sprint cars, IMCA a mods, IMCA sport mods and IMCA hobby stocks among the featured classes. For more information, visit http://www.JacksonMotorplex.com.
INSIDE LINE PROMOTIONS –
Inside Line Promotions specializes in affordable public relations and media management for motor sports drivers, teams, sponsors, tracks, series, events, organizations and manufacturers. ILP Founder Shawn Miller leverages professional journalism with new media technologies and social networking to improve your exposure and the return on investment for your sponsors.
To meet the media relations needs of your program by joining Team ILP, contact Shawn at 541-510-3663 or Shawn@InsideLinePromotions.com. For more information on Inside Line Promotions, visit http://www.InsideLinePromotions.com.
---
Article Credit: Inside Line Promotions
Submitted By: Shawn Miller
Back to News